Our 2018 Model Railroad Show
Updated on January 20, 2018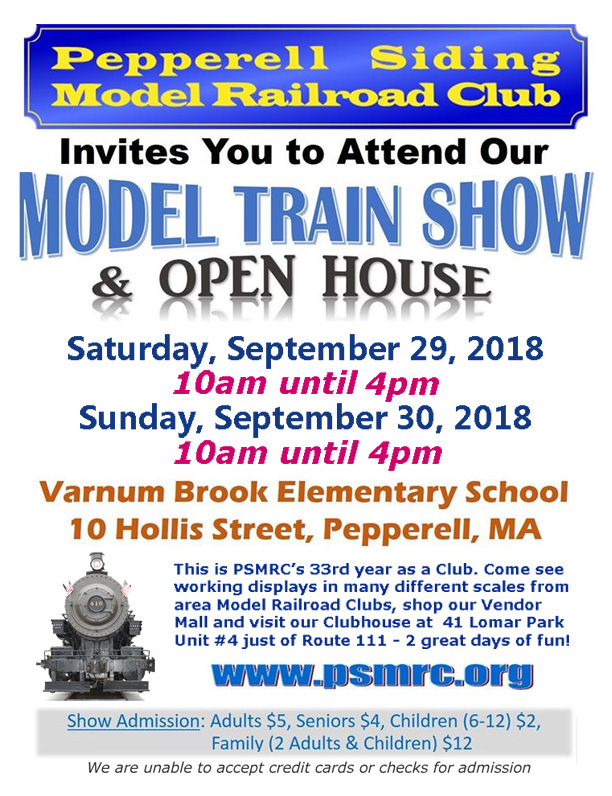 2018 PSMRC Varnum Brook Elementary School Show
Exhibitors and Vendors participating at the
Pepperell Siding Model Railroad Club
Train Show and Open House:
The 2018 vendor and exhibitor show list will be updated beginning in July 2018 as vendors and exhibitors are added to the show roster. Additional vendors and exhibitors may be added to the list without notice, so please check back as often as you wish.
Please send your questions or comments to us.
---
---
Our 2017 Vendors were:
North Shore Model RR Club
Casey's Caboose
PRC Trains
B&M Railroad Historical Society
Double Play Hobbies
Model Rail Supply
Jimmy K's
Steve's Trains
Bill Bigda
Our 2017 Exhibitors were:
Hub Division — NMRA — HO Scale
Northeast NTRAK — N Scale
NH Garden Railway Society — Large Scale
Tour-de-Chooch — All scales
Connecticut Valley Model Railroad Club — HO Scale
Bedford Boomers — O Gauge
Pete Davis "Timesaver" — HO Scale