The Pepperell Siding Model Railroad Club, Inc., is an HO scale model railroad club located in
Lomar Industrial Park
Unit #4. Pepperell, Massachusetts, and features a 1,000 SqFt multi-level dual main line track
permanent layout
on the second floor, and a meeting room, fully equipped work shop and module storage space on the first floor.
The club meets every first and third Monday of the month from 6:45 pm until about 9:00 pm. The public is welcome to visit during any meeting. The club owns the building and has over twenty five dues-paying members and five Life Members.
The first floor houses a reference library, storage space for member"s equipment, shelving to store about twenty five traveling modules and a 55 inch television and computer for presentations and viewing the club"s media library. The club operates trains using a Digitrax Digital Command Control (DCC) system permitting virtually scores of simultaneous locomotives to operate on the layout at the same time.
To support the club"s mission to exhibit HO scale model railroad modules, the club owns a large dual axle trailer to transport modules to various shows where they are exhibed to the public. This opportunity gives the club the versatility to try out new arrangements and challenge train operations. The club's "traveling" modular layout is made up of a mix of 50+ club-owned and member-owned modules that we take to shows several times a year.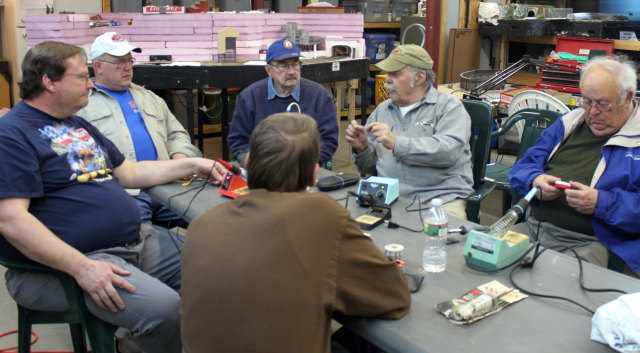 Our members hold classes to teach various aspects of model railroading. We periodically have classes in creating scenery; weathering buildings, locomotives and rolling stock; DCC decoder installation; rolling stock maintenance and DCC train operation among others.
The picture below shows a live steam locomotive from one of the Pepperell Model Railroad Club's earlier shows.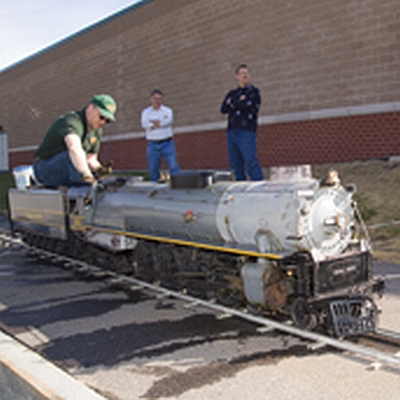 Be sure to check out our
photos
section to see firsthand some the latest activities of our club.
Click here
to see pictures of our club cars for sale